StaffPad
was a super-hit app on Surface tablets -
And when
they brought the app to iPadOS
, I watched the 3 hour inspiring and very beautiful video by the founder and bought it immediately -
Dynamics and Articulation tools (Tile-bar) -
Mixer and Effects for staves -
.
.
---
REVIEW
StaffPad app
I was using Pencil 2 mostly in LumaFusion and Cubasis so far but this app will take Pencil 2 usage to the next level. The videos and help sections are great. It is clutter-free and highly
elegant
(once you see it, you'll dream about it day and night - it'll haunt you until you buy it!) with 2 switchable toolbars and a 3rd hidden Edit toolbar that appears on highlighting something. Fenby, the voice-controlled composer virtual assistant at the far right is really slick - he performs voice commands like "Add a Violin" and he adds a violin track for us, "Change tempo", etc with funny animations! StaffPad has 4 voices and we can draw automation on the tracks.
Videos
3-hour score-writing video by David, the Founder -
How to get Staffpad to recognize your notation -
StaffPad and Reader for iPad review from Scoring Notes
StaffPad review
More -
StaffPad Reader app
The free StaffPad Reader app is super-cool with intelligent page turning and works seamlessly connecting to performers' Reader apps and play together in sync with ScoreSync and any edits are sync'ed instantly to all Reader apps. After the composer's StaffPad disconnects, all the scores are gone from the performers' Reader apps without a trace - POOF!
Dark Mode in Reader app that is part of its Pro upgrade but does not exist in StaffPad writer app (never seen any app selling the iOS' Dark Mode feature as an IAP) -
StaffPad-
https://www.staffpad.net
Features -
https://www.staffpad.net/#Features
Reader -
https://www.staffpad.net/#Reader
FAQ -
https://www.staffpad.net/#FAQ
Blog -
https://www.staffpad.net/blog
Help -
https://staffpad.zendesk.com
I haven't explored StaffPad's features a lot yet due to some issues listed below and shall update this as I do.
Here is an in-depth review of StaffPad from Scoring Notes -
https://www.scoringnotes.com/reviews/staffpad-for-ipad
Apple Design Award!
The clutter-free UI/UX in these 2 elegant apps is just so PEAKS, I'm glad they earned the coveted
Apple Design Award
within 4 months of releasing the iPadOS app (no surprise for its looks, quality, usability and features) -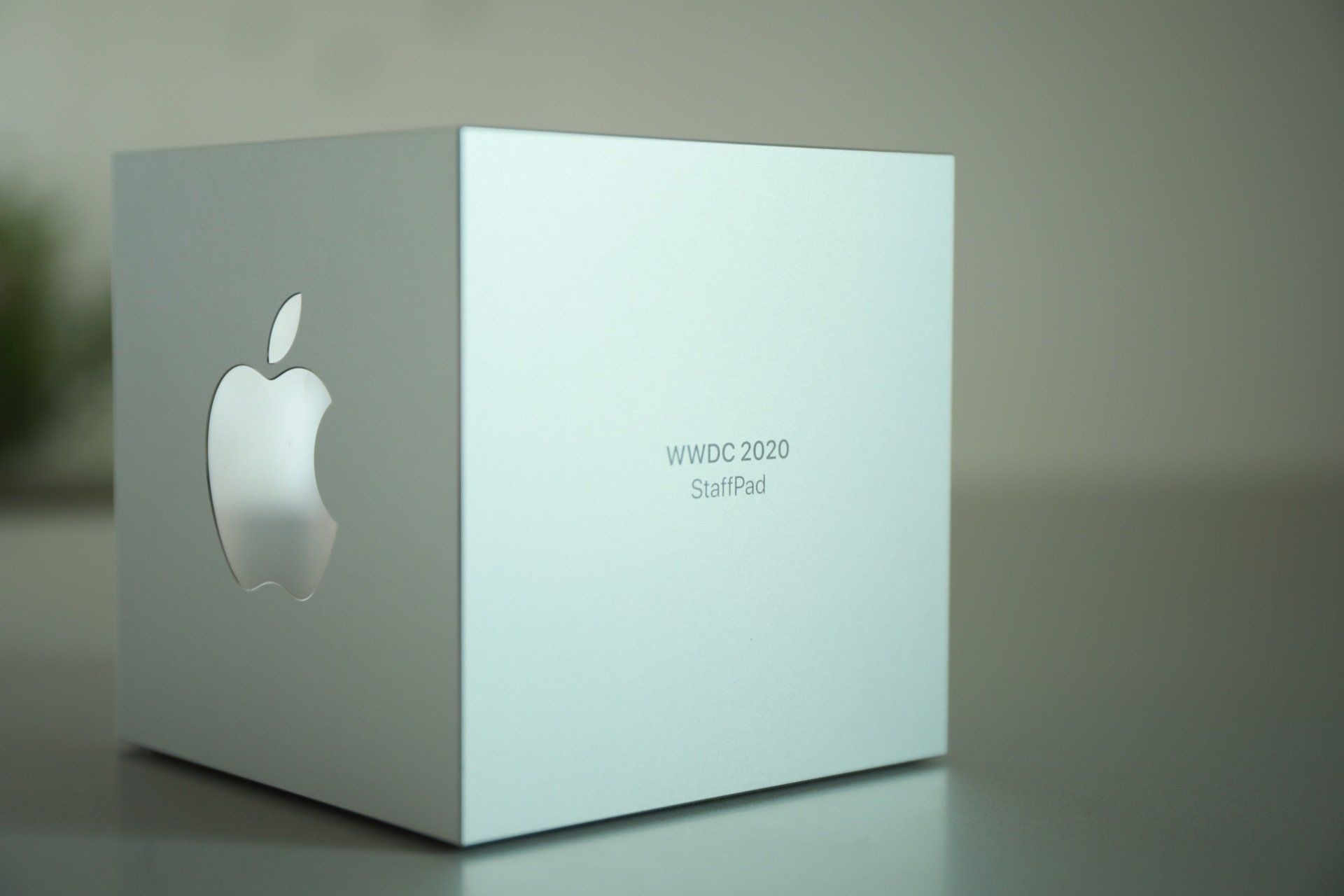 .
.
---
ISSUES & SUGGESTIONS
However, I've found some issues in the app and here is what I reported to them. They confirmed they would forward my feedback to the right people and I'm confident they would resolve the issues soon -
The
3 CRITICAL BUGS
that should be resolved at the minimum. These features already exist in the app, they work but have glitches that need to be fixed:
It does not draw many ties for imported MIDI. This may be a minor glitch as all data and dynamics exist in the MIDI to reproduce sheet music but this is posing as a major issue to users. For importing MIDI, this app is not being very useful. Compare this to the free Flat.io app which renders all ties accurately using the same MIDI file. Tried exporting MusicXML file from Flat app and importing into StaffPad and found the notes are cramped too close to each other inside the bars making the notes and ties unreadable and some stems pointing in the wrong direction. Also verify and test what other attributes it is failing to draw sheet music from the imported MIDI and MusicXML files. I guess StaffPad is importing MIDI file's rudimentary raw data but not applying some attributes to the generated sheet music probably due to no logic to read and apply dynamics from the MIDI file.
.
RESOLVED in v1.3: MIDI files are not importing and resulting in an error or crash. Tried importing a 27 track file and it gave an error saying the format is not supported (no crash). This file opened just fine in Flat.io, Notion, Stave'n'Tabs and other similar apps and also desktop apps. This is shocking as I expected StaffPad to work smoother than other cheaper/free apps in loading MIDI files. Tested it by reducing the number of tracks decrementally. At around 5-6 tracks in the MIDI file, the app started crashing on import (no error message) but added an empty file to the Home screen - tapping on which would crash the app again. It imported correctly only after reducing the number of tracks in the MIDI file to 2. This is likely a minor issue as well but a major shortcoming for users. The MIDI file I tried to import had 27 tracks and was not complex enough but the import failed until I reduced the number of tracks to just 2 (that include the melody track which is the only complex part) -



Imported MIDI shows notes under-filled (not enough beats) in the bar and turning their background color to gray for some reason. I'm not sure why the notes are not obeying the time signature - it is just a MIDI file - you can watch my videos which are 4/4. Other apps do not have this issue. See the attached screenshot where only bar # 16 has white background with no over-filling or under-filling of notes -


.
​Importing and exporting ought to work for an expensive and premium app like StaffPad! And the above 3 issues are making the app unusable. If you use the same libraries or logic that other smaller apps are using, these could get resolved in no time. I've found the free Flat.io app generates accurate sheet music compared to other apps but they charge subscription fees for exporting. You can look into other bugs and suggestions outlined below later on but the above 3 issues are BLOCKERS.
.
Show Note Names (C, D, E, F#...) on each note and also at the beginning of the staff before the clef. Complete note names should be displayed on each note-head (eg: C#, D, E, F#, G#, F) including natural notes in the bar. These can be used in tutorial videos and may be offered as configuration options to show notes at the beginning of the staves, all notes or just minimal notes like C, G or octave notes like just C. Please see Flat.io app for possible options (letters, colors, shapes, etc). I see that additional note head styles were added in v1.3 and so adding Note Names should be cake in a future version.
.
I created a Growl voice using quick succession of short notes in MIDI and imported but it got rendered incorrectly. Flat.io is the only app that rendered them accurately. Other apps like Notion and Stave'n'Tabs had issues drawing notes from quick succession of notes in the MIDI.
.
RESOLVED in v1.3: Dark Mode exists in Reader app but not in this writer app. Please add Dark mode to this app. This is also a very important shortcoming of the app which when resolved, would make it even more elegant! Maybe ability to apply any background color like light gray, dark orange, etc too?
.
Please make IAPs "USABLE ACROSS OTHER APPS" to make them worth their high cost (this would get you more sales). Otherwise, the cost of IAPs exceeds the cost of iPad while limiting their use within StaffPad only whereas people could buy 3 iPads spending that kind of money! If they are reusable across other apps, it would make their cost justified.
.
Audio Unit AUv3 Extension to use in other apps. For instance, we could plug this app on a MIDI track inside a DAW like Cubasis, read MIDI notes from the track and render sheet music from the MIDI notes for export, etc. Or plugin this as AU on the master track and generate sheet music for ALL the tracks.
.
Add a soft Note keyboard for inserting notes easily and naturally as we play like Notion to reduce complaints of handwriting recognition which would increase its scope and get you more sales as well. Note keyboard similar to Tonality, Song Memo, Score Creator apps, Flat Music score tab editor video (edit a note with circular popup menu).
.
Highlight each note in playback mode.
.
Also, animate the keyboard/fretboard in playback mode.
.
Ability to add Tabs and animate them in playback mode.
.
Home screen went blank with no recent files tiles for no reason that got resolved on quitting and relaunching the app.
.
Files don't display file info size, date, duration, number of tracks, etc and there is so much wasted space on iPad screen. Please create a grid list of files with its info that makes it more readable. Or, ability to view summary (current default) or detailed file listing.
.
Do not re-save the file for just opening a score file even though NO changes were made to it. This is frustrating and messes up the sorting of files on the Home and Library screens unnecessarily as the recently opened file moves to the top and we shy away from opening projects because of this issue. Save the file only after any changes were made to it when Auto Save is on. No changes, no re-saving. Currently, we cannot turn Auto Save off until we are inside a project to access settings but by then, the project already got re-saved and modified date got updated - for just opening the file to access settings. Please see LumaFusion app which works perfectly and auto-saves projects only after making any changes and does not re-save for just opening, scrolling and tapping through its timeline, etc.
.
All Settings are mixed up and added inside the project Settings. There should be separate Global Settings on the Home screen applicable to all projects and Project Settings inside each project for obvious reasons. Or move Settings to the Home screen to indicate they apply to all projects. As an idea, also include Global Settings as a separate tab page on the Project Settings popup when opened while inside a Project for quick access.
.
Ability to create Folders where we can categorize/store our projects and reduce clutter. Include some category, genre, language, rating, etc metadata attributes inside each project so we could sort/filter by them.
.
Ability to view files by Folders or by Alphabets and ability to sort and filter by file name, date, size, metadata attributes, etc.
.
Library: A-Z scrollable vertical index on the right similar to Contacts app for quick navigation.
.
Produce sound on every addition, edit or touch of an existing note for audition and as an audible cue. Do not draw notes when tapped on an existing note - just produce its sound. Currently, it is drawing new notes even on tapping on existing notes and adding to Undo history unnecessarily.
.
On the instrument selection popup, add a Play button on each instrument row to audition so we know precisely what instrument we are adding.
.
Add icons to category items, staff items and instrument items on the instrument selection popup to make them graphic, easy on the eyes and more readable. Currently, these list items are just plain strings and hard on the eyes.
.
How to delete the Bass clef and keep only the Treble clef - like the ones from imported MIDI? Currently, this is not possible even when there are no notes on the bass clef and we want to get rid of it to export neater files.
.
Quick shortcut ways to add 4 quarter notes, etc. without manual drawing. See other apps like FL Studio that offer one-click features to place 4-on-the-Floor beats...
.
Ability to show Chords as diagrams or Keyboard chord thumbnails on the Chords tracks. Edited chord notes should be displayed in the chord diagrams and keyboard chord thumbnails with edited notes.
.
Not able to copy notes into other projects. Tried selecting the entire staff, copy from toolbar icon, open another project, paste it into its treble clef. StaffPad crashed! How to copy notes/tracks across projects? Please make this very basic feature possible.
.
Patterns for reusable block of notes.
.
Signature at the bottom of the page does not save in exported PDF even after toggling Print Sketch Layer on the export dialog.
.
Disallow changes to or renaming/deleting of factory installed demo files and make them readonly and do not re-save them for just opening them that messes up their sort order. If user wants to make changes to them, they should duplicate the file first and work on its copies. This will keep the original demo files intact. Demo files should be isolated into a Demo folder.
If you could pull off an EPIC app like StaffPad, resolving these critical issues should be cake! I understand bugs are temporary and these might not have been tested adequately. This is a high-quality, feature-rich and expensive app and these must be resolved in its best interests ASAP. I would gladly give it 5 stars after the critical bugs are resolved.