Angel and the BEAST
My post on Roland FANTOM -
Roland FANTOM Flagship Workstation Synthesizer Keyboard
Roland's way of putting together panels on synthesizers is logical, intuitive and easy to work with. All the controls are in the right places for performance ability. The controls are programmable and assignable for anything we want - offering extensive control over what we are doing and providing an incredibly flexible platform for sound design, studio work and live performance. You can't go wrong with a Roland!
The Angel
: I purchased
Roland JD-Xi
five years ago and used it on and off. However, due to most of its parameters hidden under the hood frequently requiring to do menu diving and the screen having only 2 lines of text display, it is like working at a MS-DOS prompt with just one command at a time and nothing else visible. Overall, the UX is uncomfortable due to its tiny screen and menu diving. I tried JDXi Manager/Patch Base editor apps but it was load-edit-flush workflow. Don't get me wrong - JD-Xi is a very
powerful
Digital/Analog Crossover Synthesizer - unlike any other synthesizer and it does things that NO other synthesizer can do - and there is nothing like it with its unique sequencer and features in its price range in the market. For it feather-light weight and size, it is a "mobile" instrument (which is why I liked it) and we can sit with it on a couch or at the beach. Again, it is sturdy and does NOT have a flimsy quality for all its feather light weight.
The BEAST
: Enter
Roland Fantom
6 - I added this latest flagship workstation to my studio and it is a beautiful dream machine and a bliss! This is not a Christmas/SynthMas/Santa-Claus thing - I bought it a while ago and also wrote an article on it -
Roland Fantom Flagship Workstation Synthesizer
.
As you can see, the Beast is more beautiful than the Angel, ha ha ??
Fantom has a very responsive 7" windowed color touch screen (that's almost like an iPad mini) and everything is just a tap/knob/button away, readily accessible and very comfortable to use even for live performance. It has everything JD-Xi has and then some.
Fantom 6 with semi-weighted keys is very
HEAVY
at 33+ LBS - you don't want to lift it again and again or move it around as it is HUGE and hard to grab and lift. Fantom 8 with weighted keys is over 61 LBS and even much heavier! Whereas JD-Xi is so light at 4 LBS we can lift it with our pinky - literally - I lifted it with my pinky several times just for fun! It reminds me of my Lulu Little kitten who weighed like a balloon when I adopted her when she was 4 months old and 4 LBS. Fantom's hefty size and weight intimidate me. After using Fantom, JD-Xi really looks like a Baby Piano now!
Some differences between the Angel and the Beast...
(for full specs, click on the header links below)
---
Roland Fantom (BEAST)
.
Roland JD-Xi (ANGEL)
.
7" responsive color touch screen (800 x 480 dots)
Tiny text screen with 2 lines of display
Semi-Weighted keys velocity sensitive with channel Aftertouch (Fantom 8 has fully weighted keys)
Mini keys (plastic) velocity sensitive, no Aftertouch
Audio Interface built in, 16 out 3 in stereo
No audio interface
Power adapter built in
Power adapter outside dangling to the cord
16 zones internal + external (scene)
4 tracks (program)
SuperNATURAL Acoustic Engine (4 partials),
ZEN-core (4 partials),
V-Piano,
MODEL (JUPITER-8, JUNO-106, SH-101 & JX-8P),
PCM engine for Drums
SuperNATURAL Synth Engine (3 partials),
PCM engine for Drums,
Analog engine (mono) - ideal for bass lines
Extensive connectivity
Minimal connectivity
Vocoder with no mic
Vocoder with Gooseneck mic
132 Drum kits
27 Drum kits
32 measure pattern sequencer
4 measure pattern sequencer in 16ths
256 voice polyphony
129 voice polyphony
Patterns, Groups, Songs
Patterns only
42 inches
22 inches
33 lbs 12 oz (VERY HEAVY)
4 lbs 14 oz (FEATHER LIGHT)
Tone/Scene Rating (0-3) and Search system
No
90 effects
16 effects
Scene Chain 16 Scenes x 32 Pages
(Total 512 Scenes) per 1 Chain set.
Set: 100
Marker: 62 (0-9, A-Z, a-z) per 1 Chain Set
No
Keyboard Switch Groups
No
Piano Roll editor with touch edit & Automation
No Piano Roll but Automation can be recorded
Microscope for surgical editing
No
Rhythm Patterns (aka Drummer)
No
Motional Pad
No
Pitch Bend/Modulation Lever
No
Deep integration with DAWs and soft synths
No
High resolution controls with 1024 knob steps
127 steps
Pads and Pad Mode
No
Tone Remain 16 parts (16 zones / 16 scenes)
No
---
The keyboard action on Fantom 6/7 with their
semi-weighted
is keys is just PERFECT with enough resistance and makes them highly
playable
and the key-bed is really good as also stated by many keyboardists. High resolution 1024 knob step editing support for Cutoff, Resonance, Attack, Decay, Sustain, Release, Amp and FX Depth for a smooth sweep as opposed to 127 steps. Fantom has 2 GB of
Flash Memory
(not: RAM) to store user and expansion wave forms and an additional 1.75 GB of Flash Memory to store pad samples (Total: 3.75 GB for user data) - without affecting boot time. I understand from Product Specialists at Roland that the Fantom has even more additional memory set aside for future that is not exposed yet. It boots in 30 seconds. Fantom is an
all-in-one
solution and we can perform live with it without needing any other instruments.
I'm yet to connect JD-Xi to Fantom to get its SuperNATURAL tones inside Fantom.
An
easy-to-use
keyboard will make a HUGE difference in practice and performance. Sounds are secondary - they can be downloaded (up to 10,000 FREE tones from Roland Cloud using the serial number with Lifetime Unlock), purchased or designed on our own. People are buying CUBASIS app for a reason even though its built-in instruments are mediocre because the app is easy-to-use.
Fantom excels at UX and Roland nailed it
! It is so easy-to-use and navigate as it is also
Mode-less
and we always work in the context of a scene (I can master this keyboard in no time). There are usually 3-5 (or more) intuitive ways of navigating so you can choose which way is best for you (eg: Tap the screen, Double-tap the screen, Enter button, twist/press the 6 Function knobs, Jog Dial, Arrow Keys, Increment/Decrement buttons, etc). In 6 month period, they released 4 updates, added V-Piano, Multi-Sampling, Piano Roll, Microscope, 32 band Vocoder, Roland Cloud support and more and they intend to release more updates in future.
So, exactly how much of fun is Fantom? We all know GarageBand is a fun app - Fantom being a hardware instrument, it is more fun with all its modules than GarageBand! Its clip-based Pattern screen is like Ableton Live or GarageBand LiveLoops in a hardware instrument. Its Keyboard Switch Groups and Scene Chains are interesting and powerful in live performance.
A hardware keyboard runs forever on mains without battery and no need to keep an eye on the draining battery like an iPad. A Keyboard has headphones connectivity for private practice unlike a real Piano which some apartments disallow. A keyboard also never goes out of tuning unlike an acoustic Piano.
Well, Fantom with its heft and huge size is not "mobile music" but I guess it is good to step outside our comfort zone and stride into other territories too.
Essential Accessories for a Keyboard
Stand
- we should never compromise on this one that holds the keyboard securely. This should be compatible and preferably from the same manufacturer. I bought
Roland KS-10Z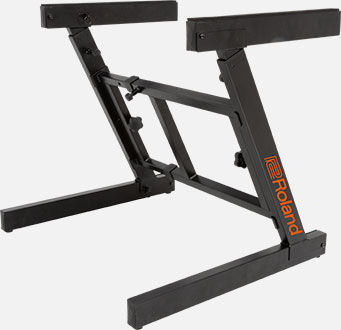 I really wanted this stylish
Roland KS-J8
discontinued stand but there was no info available about its compatibility with Fantom and its rubber feet. I called Roland and left a message about its compatibility with Fantom but never got a response.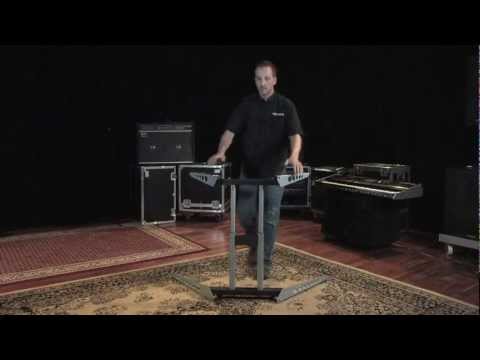 Pedals
- for Sustain/damper, SosTenuto, Una Corda.
Roland RPU-3
triple pedal. These pedals can also be assigned to other parameters such as switching scenes, etc. We can assign volume expression to the pedals but its behavior is not exactly the same as a rocking Expression Pedal and not meant to be used for volume control, etc. The cheaper option is to buy just a single Sustain pedal
Roland DP-10
. Even cheaper is an on/off switch pedal.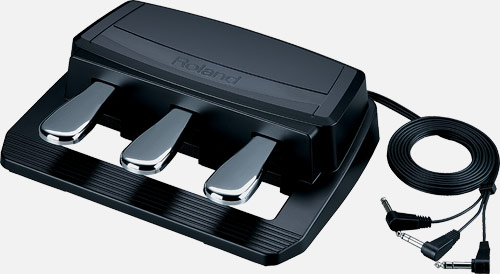 Expression Pedal
- for Volume control, etc.
Roland BOSS EV-30
. This can be assigned to other parameters too. The cheaper option is
Roland EV-5
but it is not worth the price for its build quality.
touche
- Touché unlocks incredible new sound design possibilities in all your favorite software and hardware instruments. Its control surface features unmatched sensitivity, translating the a subtlest gesture into rich MIDI, CV and USB control data. Combine multiple axes of movement and create a symphony of sound sculpture. All it takes is a touch of your hand.
Assigning parameters to pedals, knobs, sliders, wheels, buttons, etc is very easy, quick and intuitive in Fantom - just hold the Shift button and press/wiggle/move the control/knob/slider and we get the context menu for the wiggled control to choose and assign from various parameters -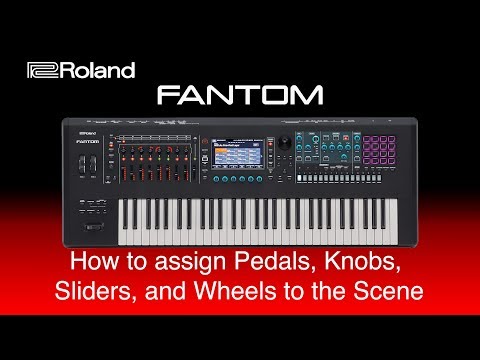 In addition to anything assignable to anything, there are 2 function area buttons ASSIGN 1 and ASSIGN 2 under
each
of which there are an additional 8 knobs and 8 sliders that can be assigned to various parameters - that is another 32 empty/blank assignable controls at our disposal.
Model Expansions
Feb 2021, Roland released v2.10 update for Fantom and model expansions for Roland FANTOM Synthesizers, ZEN-Core Model Expansions infuse your synthesizer with the authentic characteristics of legendary Roland instruments, each with their own sonic personalities, features, and preset tones. Use them on their own, or alongside onboard sounds and custom multisamples to supercharge your music with unique voices and textures. From rare and sought-after classics like JUPITER-8, JUNO-106, SH-101 & JX-8P, Model Expansions give you unprecedented access to the historic and ever-evolving world of Roland synthesizers. Model Expansions are available exclusively with a free Roland Cloud membership. All these expansions (worth $600) are available for FREE for a limited time. Roland Cloud is also the home for tons of additional content for your FANTOM, with a continually growing range of Sound Packs, Wave Expansions, and more to keep your music sounding fresh.